How to Use a Paint Sprayer?
A paint sprayer can accomplish a paint project faster than the traditional roller or brush. So, if you know how to use a paint sprayer, it will make the spraying work easy outdoors and indoors. You can paint a door or interior walls with a paint sprayer.

If you have a few questions about spraying when a process for painting cabinets, walls, and furniture. The guide will offer you some helpful tips for rookie sprayers and guide how to use the paint sprayer.
How to Choose Paint Sprayer?
There are airless paint sprayers, HVLP paint sprayers, pneumatic paint sprayers, three common use paint sprayers on the market. So which one do you need to choose? 

Generally, professional painters who want to spray large surfaces but are not suited for precision projects prefer using the airless paint sprayer. This spray gun can deliver lots of paint quickly and works well.

The HVLP paint sprayer is an ideal tool for a beginner. They also can paint large surfaces very quick and has better transfer efficiency than airless paint sprayers. But one item you need to consider. These don't work well with thick latex paints because they will create logs. You can use these paint sprayers on cabinets, furniture, and walls, etc.

Pneumatic paint sprayers are used to apply paint for complex industrial projects like painting a car. 
Prep Before Using a Paint Sprayer
When you get the Tilswall paint sprayer and start painting, some essential items to be prepared will make your spraying process smoother and get the best outcome.

1. Protective Gear  
You should better prepare gloves, a face mask, and goggles. And ensure the area is well-ventilated to avoid inhaling overspray.

2. Buckets
Prepare a 5-gallon bucket if you use the airless paint sprayer to paint; this will help you mix the paint, so that you can clean the airless paint sprayer after you finish your sprayer projects.

3. Ladder
If you're going to spray paint gun on ceiling, suggest you prepare a ladder so that you can reach the high areas, but you need to make sure safety when using your ladder.

4. Drop Cloths or plastic sheeting
Before your spraying process, we highly suggest you mask off the floors, doors, windows, and furniture with drop cloths or plastic sheeting. These are easy to buy at most paint stores and hardware shops. 
Learn How to Use Your Paint Sprayer 
 After you've prepared everything, and you are ready to paint spraying. But we suggest you learn how to use your paint sprayer before you're starting paint spraying your walls or cabinets. 

The Tilswall electric paint sprayer with an adjustable spray nozzle will make your painting easier. You can adjust vertical spray patterns and horizontal spray patterns. When selecting the vertical spray pattern, it will paint a tall, thin oval; if change to horizontal spray pattern will paint a wide oval-shaped. To familiarize it, you can practice scrap materials like cardboard until you are comfortable spraying in two patterns.

If you want to get consistent on paint spray onto the surface quickly and get a uniform look applied outcome, then do more practice to follow the below step: 
1. While holding the paint sprayer up near a surface, even more paint gets used, and a narrower spray pattern is made. Technique holding the gun better to the surface to see that outcome.
2. Holding the sprayer gun farther away from a surface develops a thinner coat of paint as well as a broader spray pattern. Method doing that as well.
3. If you hold the sprayer too far away, the paint can dry out before it gets to the surface. If that occurs, you will need to respray the same surface and take much more time to finish the job, and your paint supply will be diminished much faster.
Use Your Paint Sprayer
After all the preparations have been finished, start your work now.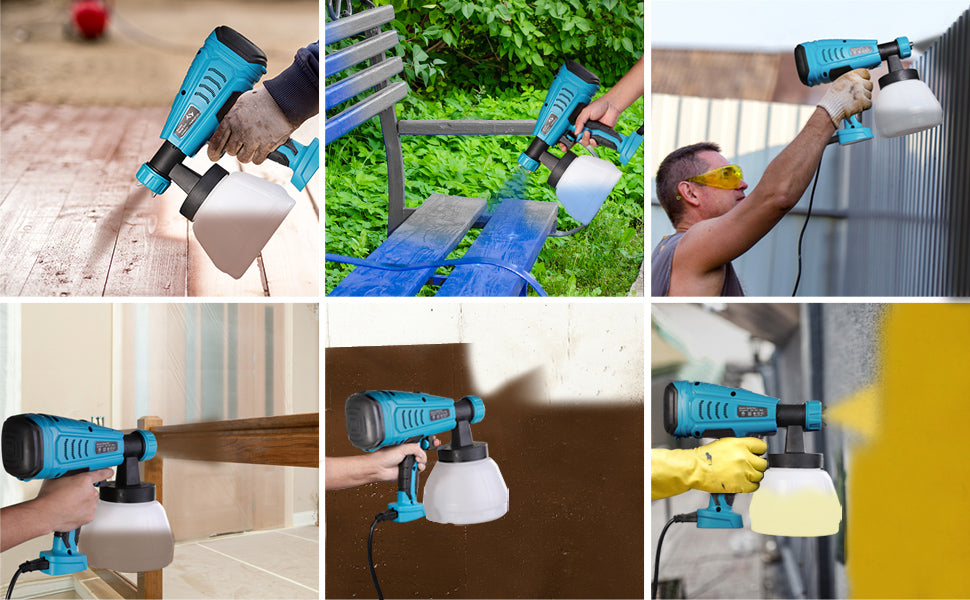 1. Control the spray patterns based on your needs, and choose a suitable nozzle for different paint types, then change the sprayer's force as needed to achieve a uniform surface without brush marks.
2. Spray directly toward the surface area, avoiding strongly tilted instructions.
3. Don't swing the arm backward and forward, and also instead move the arm meticulously to and fro to spray. 
4. Tidy the whole spray painter thoroughly, adhering to the maker's guidelines as soon as your task is ended up.
5. Avoid to store paint in your paint sprayer for too long-times.
Clean The Paint Sprayer 
After completing all spraying jobs or plan to spray tomorrow, take a bit of time to clean your paint sprayer. Otherwise, the dried paint will block the spray gun nozzle. You just throw the paint spray into a bucket of water and then clean them.
Painting with Tilswall Electric Paint Spray Step By Step