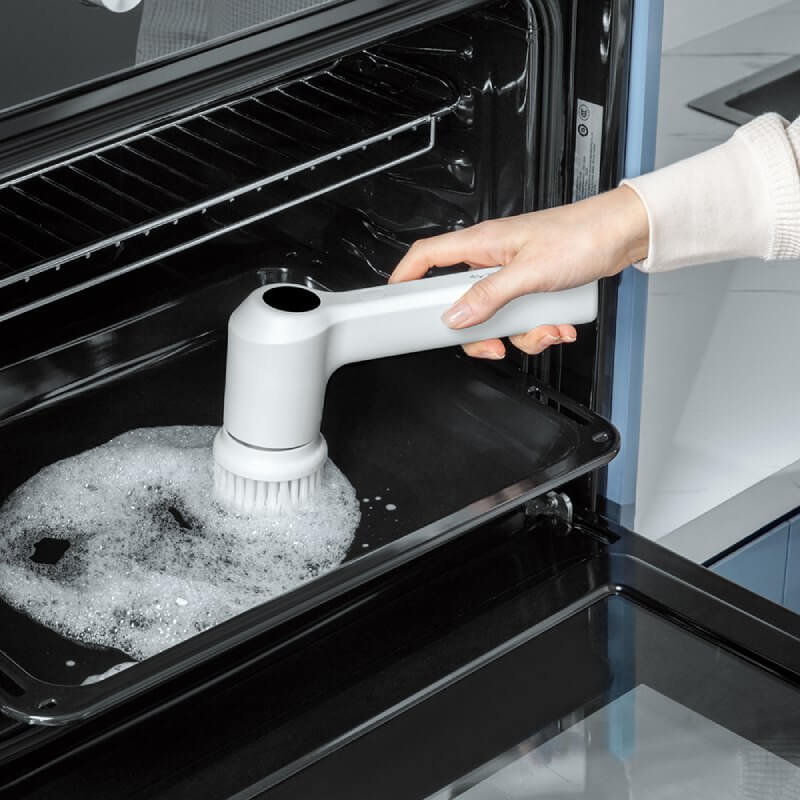 How to Clean Your Oven: A Step-By-Step Guide
Cleaning your kitchen may seem a daunting task to you. Many functions must be done, from detecting the dirt and grime to washing it till it sparkles. However, knowing the proper way to clean your kitchen oven will ease the entire task.

According to the experts, an electric spin scrubber would be the best option to clean your kitchen oven. It can save your precious time and hard-earned bucks. In this article, we will show you how to do that effectively.
Why cleaning your oven is essential?
I was cleaning your oven once a week improves the food quality. Consistent cleaning every week saves you from the painstaking task by cleaning all dirt and grimes at a single time. According to a home-maker, "I clean my oven every Wednesday with an electric spin scrubber. Therefore, I don't need to call a professional now and then."
How often should you clean the oven?
If you see the signs of residue or crust on the bottom of the oven, you may need to clean it. The second is the odor. Do you feel the distinct smell when you fire up the oven? If yes, maybe there is lingering grease or food inside. Last, but not most minor, smoke. If your oven is clean, then it shouldn't smoke. It signifies the build-up of dirt and grime, too.
Materials you need to clean the oven
Baking soda, vinegar, and spray bottle
This DIY method would be a good option if you find lots of build-up inside the oven. You need to make a paste of water and baking soda. Apply the paste and let it be for 10-12 hours. Now, rinse and scrub the same to get a clean oven.
Oven cleaner
If you have a busy schedule, this can be the fastest way to clean your oven. Use an electric spin scrubber that has a rotating scrub brush. However, oven cleaners may be acidic. If you are sensitive to harsh chemicals, you should wear a pair of gloves to prevent direct touch of the chemicals.
Water and lemon
This DIY option is suitable if your oven is mildly dirty and doesn't need rigorous cleaning.
Protective glasses
Your eyes are the most precious. To eliminate any unprecedented situation, you should wear protective safety glasses.
Cleaning gloves
To protect your skin from harsh chemicals, you require a pair of cleaning gloves. You can buy the same from a local store.
Damp cloths
If your oven is too grimy, you should wipe off the grime from the oven once the cleaner has been applied. You may need more than one based on the occasion.
Plastic garbage bag
To store the dirt in a place, a plastic garbage bag is a must.
Microfiber sponge
It is helpful if you are cleaning lots of build-ups.
How to clean the oven with the electric cleaning brush?
At first, remove everything from your oven.
Now, lay out the newspapers on the oven floor.
Put the gloves and safety glasses as a precaution. Spray the oven cleaner inside your oven by covering the side, bottom, corners.
Let the spray sit. Leave it for 20-30 minutes.
Take the electric spin scrubber and scrub the areas where you barely can reach. Look for the grimes and dirt.
If there is more grime and dirt, you may need more cleaning for complete clean-up.
The adjustable brushes are there for maximum cleaning within a short time.
Once you are done with the initial cleaning, take a damp cloth rag. Wipe down all the surfaces. You can also use extra scouring pumice to wipe down all the surfaces. Make sure you wipe down all the crevices, leaving no dirt behind.
How to clean the glass oven doors?
As the glass is more susceptible to scratches, your oven glass requires extra care. You should skip abrasive products. Instead, it would help if you used a less aggressive scrubbing technique. You can use a Tilswall M3 electric spin scrubber for maximum effectiveness.

Mix the water and baking soda to form a thick paste.

Spread the paste across the glass and leave it for more than 20 minutes.

After some time, wipe up the paste with a cloth. Rinse the same with water. You can also use the electric cleaning brush if necessary.

Your oven's glass door may be comprised of two glass pieces. It may lead to crumb accumulation, streaks, and dust. You can clean this with the spin scrubber easily.
Summing it up
You just learned how to clean your kitchen oven and clean it with an electric spin scrubber.
It's a perfect start. You can continue your journey by learning 
reasons for buying an electric spin scrubber
, or you could go deeper by reading the 
buying guide for the best rotary cleaning brush
. For more information, you can visit the website.